Posts Tagged 'SIPTU'
If my father had lived, he would have been 100 years old today. Sadly we lost him in January 2000 after a routine operation went wrong. While I was angry at the surgeon, I blamed myself as I should have noticed his health deteriorating sooner. That fact I will have to live with.
Thomas Patrick Baldwin was born on Sept 8th, 1916 in Broughton Street, Dundalk. His dad was another Tom Baldwin, a plumber who was well-respected around the town. His mother was Catherine McGuinness whose father was a local publican just across from the Town Hall. He was a 'middle child'. Brothers Billy and Bernie. Sisters Margaret and Mary Bridget (sadly died a teenager).He was an accomplished young goalkeeper and defender for junior team Norton Villa and then later with another legendary local team St Patricks. He was also a lifetime supporter of Dundalk F.C. His brother Billy also played locally and was another decent player and a bit of a legend I'm told.
Dad went to the local Christian Brothers before working with the B&I at the port. There he met his life long pal Jimmy McLoughlin. They both headed off to Belfast to work with the LMS in York Road Station. My father was very popular with his co-workers except around the 'Glorious 12th' when the Loyalists would, as he termed it 'go mad' for the month of July. That said, it seems they trusted him more than 'their own' as they'd get him to put the money on the dogs in Dunmore Park. One said 'I trust you Tom I wouldn't trust them fellas.' Always a source of amusement to my Dad. He also had a great friend in Belfast, Paddy Manning who is also sadly deceased.
After a few years in Belfast, a city he loved, he moved to Dublin to join British Railways in Westmoreland Street. The Union said his time in Belfast would be counted for pension purposes. It wasn't when the time came. Dad was a proud active trade unionist. He was a member of the Irish Transport & General Workers Union, ITGWU. He also supported the Labour Party until he became disillusioned with them in later life. He said too many chancers were using the union to further their political careers.
Dad married my Mum Hilda Clarke of St Kevins Road, South Circular Road in 1952 when he was 36. He always laughed and said he was cut off in his prime ! They only had one child, me, although my Mum wanted a football team, but only got the goalkeeper.
Throughout his life, my father was involved in trade unionism. He instilled values of fairness in me. He was deeply religious and practiced what he preached. Even when he was a senior manager in Sealink (Brit Rail) he went on strike on a matter of principle. He saw no compromise being one of the bosses and an active union member. He'd laugh when Head Office would send in Management Consultants to suggest changes. He treated them as though they were there to shut the company down. As he'd say, what the hell do they know about this business. They've shut down more places. Needless to say The manager of Brit Rail got away with nothing when my Dad was around !
He held people to account when need be and wasn't shy to speak up. Prior to Christmas 1999 he attended a function in Jurys, Ballsbridge celebrating 50 years membership of the union which was now SIPTU. He told me that during the meal he noticed that the Top Table were being served wine, while the rest were not. My father took Bill Attley (Union Head) aside and asked him did he know the first thing about trade unionism. One for all etc. Attley I'm told, was not amused but subsequently wine was served to all tables. My father loved a glass of wine with his meal but on principle refused a glass. I told this story at his funeral a couple of months later and several SIPTU members confirmed the story and were disgusted with the way things were handled and the condescending way my father was treated.
After retirement I was lucky enough to have my father's help in managing my legal practice. He was very popular with all the staff although he brought some of them to task. One young lady told me that 'if Mr Baldwin gives out to you then you deserve it.' I don't think I ever commanded the same respect as he did. Well, he was the 'Real Tom Baldwin'.
Happy Birthday Dad. Mum will be 90 next week !!
LegalEagleStar , September 8th. 2016
Yesterday on Twitter I received the following Tweet ….
What needs to be done to topple the #Irish Government? #Election2015 @LegalEagleStar @ballyhea14 @Glenna_lynch @Revolution_IRL @gazzahead
I replied ….
@thesecondgoing Mass Civil Disobedience !
As a lawyer, I have been criticised by many, in particular fellow lawyers, regarding the stance I've taken with regard to the Right2Water Campaign. This is a Citizen led Movement which has arisen as a result of the Irish Governments attempt to privatize our water, regardless of how hollow the rejection of this claim is, by the Elites who run this country. I have taken to the streets and marched Shoulder to Shoulder with my fellow Citizens and am proud to do so. While many people cannot afford to pay the proposed charges being imposed on us, a lot can. Luckily I am one of those that can. There is a principle at stake here. Austerity measures dictated by the IMF, the European Central Bank and others and imposed on the Irish People in order to pay the gambling debts of the Elites, their Bankers and Speculators are, in my opinion, immoral. Can't Pay, Won't Pay are what the banners say. They could read Can Pay, Won't Pay and they would be as correct. People have said 'Enough is enough'. The question is, am I correct in advocating a Don't Pay policy?
I have read a lot about Civil Disobedience. Is it morally, if not legally correct? I came across the following…
I am inclined to agree with Thomas Jefferson,  the principal author of the American Declaration of Independence (1776). Justice, surely has to play a role in our thinking. As lawyers we are trained to use the law to benefit our fellow citizens. When the law is unjust, we try to use the legal system to protect our clients. Our Courts on a regular basis try to mitigate the harshness of the law and find an interpretation which protects the citizen. What about when one political ideology in power attempts to subjugate the citizens to their point of view? We are told that we live in a democracy and the will of the people is demonstrated by the Ballot Box. In 2011 the Irish People Voted for Change. They ousted the Fianna Fail Government and replaced them with the two parties that advocated change, namely Fine Gael and The Irish Labour Party. While in opposition and prior to the General Election, both of these Parties talked the talk but as it turned out, they did not walk the walk and indeed the Irish People were subjected to the same policies that the previous hated Government had implemented. Sadly, even more austerity was heaped on the citizen. The most vulnerable in society, the young, the old, sick and the poor were particularly targeted by the ruthless implementation of austerity. People suffered as a result and indeed are still suffering to this very day. The new government claim that they were given a mandate by the people and are refusing to relinquish power. They say they intend to stay the full course. Is this democracy in action?
Democracy… government by the people; a form of government in which the supreme power is vested in the people and exercised directly by them or by their elected agents under a free electoral system. So in theory that is what we have.

While we're deemed a Democratic State why are people in Ireland today so discontent? Something is wrong. They are not being listen to. Despite marching on the streets to demonstrate their opposition they are being fobbed off with our Government playing politics. Those in power are, in my opinion, not following an agenda on behalf of the citizens who voted them in. Instead they are following the dictates of the EU and other like-minded institutions whose agenda is somewhat different. Perhaps something is fundamentally wrong ….
While I have quoted from a Justice of the American Supreme Court, I feel that the same is equally relevant in the Irish context. The Irish Government panders to the will of those with great wealth to the detriment of the citizen, thus sadly creating a sub-class in our society, to which the vast majority now belong.
Photograph: Matthew Cooper/PA
It's to be noted that lawyers have headed protest against injustice in many countries throughout the world. They have led the people. In Ireland today, it appears that we only hit the headlines when huge fees are concerned. This is unfair. I recognise those firms who act for the Elites but the vast majority of the legal profession are of the people and stand up for their rights. Individually, lawyers do have a moral conscience. Unfortunately that is not reflected in the media nor indeed, in my opinion, in the representative bodies who I feel should be questioning the legality of bailing out bondholders and banks and suchlike. True leadership should be shown. It has been left to #Ballyhea and other protest groups to continue the fight against Government Austerity policies which go to bail out the rich at the expense of the poor. In the past the Trade Union Movement lead the citizen in protesting injustice. Sadly today the major Union #SIPTU are so closely associated with the Labour Party that their silence is deafening. Without the likes of Ballyhea, this whole sorry chapter in Irish society would not have a voice of protest.
So, as a lawyer am I advocating breaking the law by supporting a No Pay to Water Charges? Well, you'll have to be the judge of that. I will continue to support my fellow citizens in their fight against an unjust law. I am proud to be associated with such good people.
Finally, I think it worthwhile watching Matt Damon, a lifelong friend of Howard Zinn and his family, read excerpts from a speech Howard Zinn gave in 1970 as part of a debate on civil disobedience.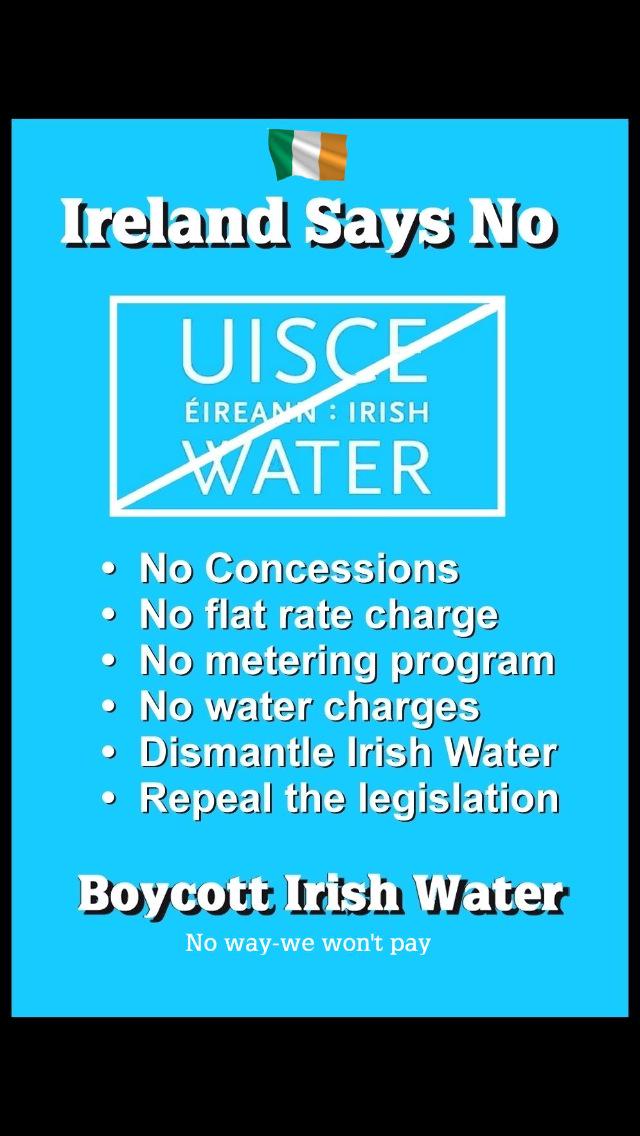 Poster courtesy of Arcturus Blackhorn
LegalEagleStar , Tuesday , 6th. January , 2015.