Posts Tagged 'Irish Trade Union Movement'
Yesterday on Twitter I received the following Tweet ….
What needs to be done to topple the #Irish Government? #Election2015 @LegalEagleStar @ballyhea14 @Glenna_lynch @Revolution_IRL @gazzahead
I replied ….
@thesecondgoing Mass Civil Disobedience !
As a lawyer, I have been criticised by many, in particular fellow lawyers, regarding the stance I've taken with regard to the Right2Water Campaign. This is a Citizen led Movement which has arisen as a result of the Irish Governments attempt to privatize our water, regardless of how hollow the rejection of this claim is, by the Elites who run this country. I have taken to the streets and marched Shoulder to Shoulder with my fellow Citizens and am proud to do so. While many people cannot afford to pay the proposed charges being imposed on us, a lot can. Luckily I am one of those that can. There is a principle at stake here. Austerity measures dictated by the IMF, the European Central Bank and others and imposed on the Irish People in order to pay the gambling debts of the Elites, their Bankers and Speculators are, in my opinion, immoral. Can't Pay, Won't Pay are what the banners say. They could read Can Pay, Won't Pay and they would be as correct. People have said 'Enough is enough'. The question is, am I correct in advocating a Don't Pay policy?
I have read a lot about Civil Disobedience. Is it morally, if not legally correct? I came across the following…
I am inclined to agree with Thomas Jefferson,  the principal author of the American Declaration of Independence (1776). Justice, surely has to play a role in our thinking. As lawyers we are trained to use the law to benefit our fellow citizens. When the law is unjust, we try to use the legal system to protect our clients. Our Courts on a regular basis try to mitigate the harshness of the law and find an interpretation which protects the citizen. What about when one political ideology in power attempts to subjugate the citizens to their point of view? We are told that we live in a democracy and the will of the people is demonstrated by the Ballot Box. In 2011 the Irish People Voted for Change. They ousted the Fianna Fail Government and replaced them with the two parties that advocated change, namely Fine Gael and The Irish Labour Party. While in opposition and prior to the General Election, both of these Parties talked the talk but as it turned out, they did not walk the walk and indeed the Irish People were subjected to the same policies that the previous hated Government had implemented. Sadly, even more austerity was heaped on the citizen. The most vulnerable in society, the young, the old, sick and the poor were particularly targeted by the ruthless implementation of austerity. People suffered as a result and indeed are still suffering to this very day. The new government claim that they were given a mandate by the people and are refusing to relinquish power. They say they intend to stay the full course. Is this democracy in action?
Democracy… government by the people; a form of government in which the supreme power is vested in the people and exercised directly by them or by their elected agents under a free electoral system. So in theory that is what we have.

While we're deemed a Democratic State why are people in Ireland today so discontent? Something is wrong. They are not being listen to. Despite marching on the streets to demonstrate their opposition they are being fobbed off with our Government playing politics. Those in power are, in my opinion, not following an agenda on behalf of the citizens who voted them in. Instead they are following the dictates of the EU and other like-minded institutions whose agenda is somewhat different. Perhaps something is fundamentally wrong ….
While I have quoted from a Justice of the American Supreme Court, I feel that the same is equally relevant in the Irish context. The Irish Government panders to the will of those with great wealth to the detriment of the citizen, thus sadly creating a sub-class in our society, to which the vast majority now belong.
Photograph: Matthew Cooper/PA
It's to be noted that lawyers have headed protest against injustice in many countries throughout the world. They have led the people. In Ireland today, it appears that we only hit the headlines when huge fees are concerned. This is unfair. I recognise those firms who act for the Elites but the vast majority of the legal profession are of the people and stand up for their rights. Individually, lawyers do have a moral conscience. Unfortunately that is not reflected in the media nor indeed, in my opinion, in the representative bodies who I feel should be questioning the legality of bailing out bondholders and banks and suchlike. True leadership should be shown. It has been left to #Ballyhea and other protest groups to continue the fight against Government Austerity policies which go to bail out the rich at the expense of the poor. In the past the Trade Union Movement lead the citizen in protesting injustice. Sadly today the major Union #SIPTU are so closely associated with the Labour Party that their silence is deafening. Without the likes of Ballyhea, this whole sorry chapter in Irish society would not have a voice of protest.
So, as a lawyer am I advocating breaking the law by supporting a No Pay to Water Charges? Well, you'll have to be the judge of that. I will continue to support my fellow citizens in their fight against an unjust law. I am proud to be associated with such good people.
Finally, I think it worthwhile watching Matt Damon, a lifelong friend of Howard Zinn and his family, read excerpts from a speech Howard Zinn gave in 1970 as part of a debate on civil disobedience.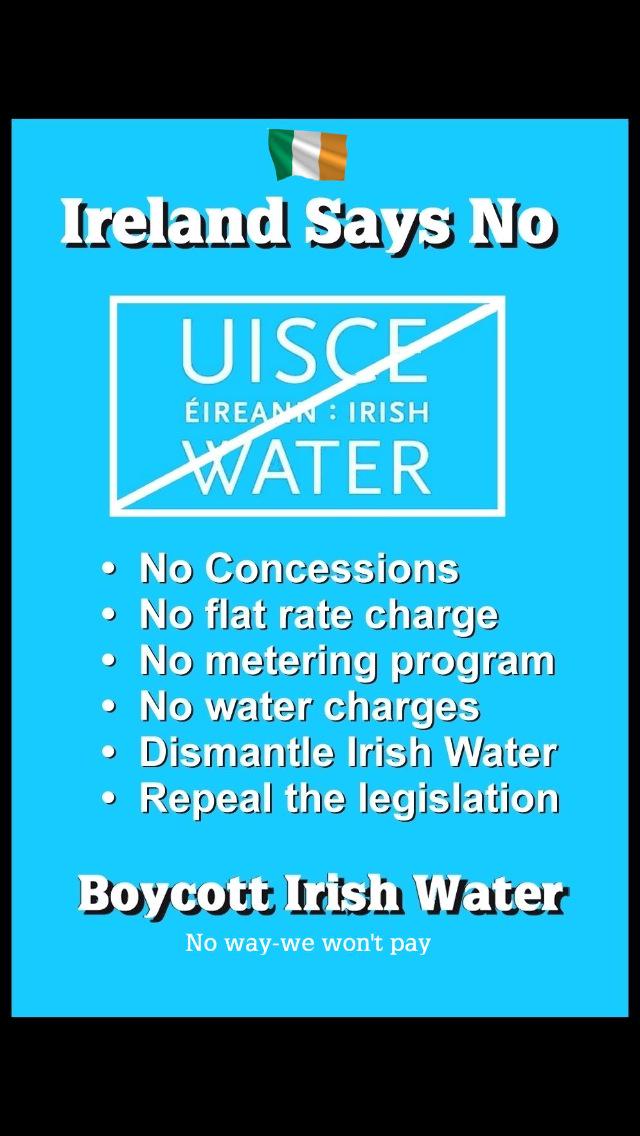 Poster courtesy of Arcturus Blackhorn
LegalEagleStar , Tuesday , 6th. January , 2015.
In the current depressing economic times, people are getting angry. Unfortunately for most they have no avenue open to them to vent this anger and they end up letting it well up inside them causing dreadful health and indeed mental health problems. The ultimate of course is when they're pushed entirely over the edge and end up taking their own life. Hence we have the dreadful amounts of suicide we see in the Ireland of today. An article worth reading is in the Irish Independent written by Niamh Horan– 14 July 2013. I am taking the liberty of quoting the article in its entirety as it's a powerful statement of the facts as we see them today…

A Leading psychiatrist is writing to banks on behalf of vulnerable patients, telling them he will hold them responsible in the event of a patient's suicide.
Dr Ivor Browne says he has been seeking out the names of bank staff responsible for the pressure his patients are under before issuing them with the formal notice.
Dr Browne, former chief psychiatrist of he Eastern Health Board, said the action is "making waves" in favour of
patients who can no longer cope with mounting pressure. "I am hearing people who are being hassled and who are being threatened that their homes will be repossessed," Dr Browne said.
"I am writing letters to the banks holding them personally responsible if this man commits suicide."
"Unless you can make them take personal responsibility, it is very difficult to get at them," he said.
"I would write to the individual who would seem to be implicated. The name that I can get," he explained, adding "I think it is making waves in the background".
In a call to other health professionals who are treating people in similar circumstances, Dr Browne said these
exceptional times called for direct action: "I am there to try to help in whatever way I can, and if there is something or someone that is clearly putting unfair pressure on patients, then I think that you have to address that."
A move by health professionals who are concerned about the welfare of their patients could lead banks to rethink their debt-collection strategy – for fear of future lawsuits.
The Master of the High Court has previously warned that the banks are driving some
borrowers who can not pay their debts to suicide. Ed Honohan, brother of Central Bank governor Patrick Honohan, said he had dealt with several debt cases where the borrowers had subsequently taken their own
lives. The news comes as suicide campaigners have accused lending institutions of adding to the suicide crisis by harassing people crippled by debt and struggling to cope with the recession.
Paul Kelly, CEO of Console, welcomed the move by Dr Browne and called on other clinicians to take action if they made a "good clinical decision" that a person's life may be in danger. "If their client is at risk and in great distress, and the clinician or therapist has a fear their patient could take their own life, then banks need to be made fully
aware of this and steps need to be taken to ensure the individual is protected," he said. He added: "We are dealing with calls every day where people feel suicidal because of the pressure from banks and lending institutions. In one case, we dealt with a man who walked out of the bank after his loans were foreclosed and he took his own life. People are telling us 'I would be better off dead' rather than continue with the pressure they are being put under."
That is indeed the situation in Ireland today and the actions of our politicians and their close cousins, the bankers, have created a situation where people feel helpless and worth nothing.
What if you've taken enough and decide to lend your weight to the many street protests taking place around this time? Well, it is an outlet for your frustrations and indeed can make you feel that little bit better. Nothing worse than sitting about all day complaining when you could be out protesting with the many worthwhile campaigns about today. Remember that The State is an Institution which is very protective of itself. Once you march down the street behind a banner, or turn up to join in a protest at Leinster House, are you aware that you are being photographed and investigated by our 'Sovereign State' ? Yes indeed you are. A file will be opened which will contain your personal details. Your Facebook and Twitter Account may be examined as well as other social media you may indulge in. Perhaps you'll get a knock on your door by some middle-aged detectives who just want to see 'what you're up to'. These would be the same characters who have overseen Republicans since the creation of the State.You see The State, our State technically, wants to know the 'trouble makers'. In today's scenario that is you and me. Of course all this can and will be shared by the Garda Commissioner with 'Our' Minister for Justice, currently Mr Alan Shatter. What they decide to do with all this personal information obtained on you is of course a matter for them. Sadly, it appears the more successful your protests, the higher up their List of Troublemakers you'll be. And it doesn't stop there. You may appear on Lists. Yes, private listings where you can end up being 'Black Listed'. That in effect means that your chances of employment in the future will take a turn for the worst. Sure, who would employ a trouble maker?
Living in Ireland today is not easy. Our Politicians and indeed Bankers are pure foot soldiers for an Elite who have taken the world by storm. Our Citizens are suffering terrible hardships from imposed austerity and this will continue until their goal of complete subjugation has been completed. Suicide or protest? Well I do hope that some day soon the Trade Union Movement will awaken and give leadership to their members and not concern themselves as appears to have happened, with maintaining their 'cosy relationship' with Government. The ties between the Labour Party and the Trade Union Movement should and must be cut now and true Leadership shown. Nothing short of this will give the much-needed hope that the Irish People deserve. Overthrow the Irish Trade Union Leadership. That seems essential in order that the irish Citizen gets the Leadership they deserve and so urgently need.
LegalEagleStar , Tuesday , 16th. July , 2013.
In a democracy, such as ours, we elect politicians for a term of years to look after the Rights of Citizens and to, as it were, 'run' the country in their best interests. That is the theory. The practice has been somewhat different, unfortunately. For years Fianna Fail were the champions of business and in particular, the construction industry. Over time, mainly due to corrupt practices, in my opinion, the interests of the citizen became somewhat overlooked. Fianna Fail became too close to the Bankers and the European Elites and began to strive to promote themselves to be rubbing shoulders with these people who were to become their Masters.
There were meetings, before meetings, if you get my drift and the power shifted to unelected Bankers and Businessmen whose sole concern was profit. The control of the Country was in effect handed over to these people with no regard whatsoever to the interests of the Irish Citizens. We became a land of would-be elites and the policies pursued by Government lost sight of what really mattered. The interests of the citizen took second place and so upon the advice of the Bankers and their fellow travellers decisions were made on another agenda altogether. Dishonestly so, in my opinion.
Fianna Fail were not alone in pursuing their agenda. Both Fine Gael and Labour played their part in this deception. So in effect, all parties in the Dail, who each made their policies clear come election time, had no intention of carrying out their promises once elected. When a Fine Gael/Labour coalition took power, the emphasis shifted in a small way to their own people who took over jobs previously held by Fianna Fail. The construction industry, while primarily Fianna Fail people, lost out to some degree. Fine Gael looked after their more rural supporters in the alternative. That is the way Ireland has been ruled for decades.
So, come the proposal to join in with Europe and the European Economic Community, all of the parties enthusiastically joined forces and urged the Irish Citizen to Vote Yes as it would be good for jobs, among other often repeated slogans. Ireland entered on its European journey and while some disagree, we have certainly developed as a nation to a degree of prosperity as a result. This is probably a good thing as when I was young, the abject poverty of some was shocking. A walk around Dublin's inner city was an eye-opener. Today a walk around Dublin is a somewhat different experience. The horrible slums have been replaced by modern buildings which by and large, have improved the living conditions of the citizens. So our journey into Europe, encouraged by almost all of the political parties has not been such a bad experience. Yes, but at what cost? We joined an economic community based on open border trade. The citizen worked hard to bring about this change but as time has gone on, those that prospered were primarily the multinationals and the banks. Peoples lives were becoming controlled, not by themselves but by institutions whose agenda was solely based on profit. The trade unions, once a powerful force in looking after the rights and working conditions of their members, began to take up seats on the boards of companies. There was an age of new industrial relations. No longer had you the James Larkin types running the unions. They were a training ground for future politicians who slowly but surely positioned themselves into positions of power.
From an e economic union we have been steamrolled into the European Community. Sovereignty, while once a powerful emotive term is now a dirty word. We are, after Maastricht, on the slippery slope to what we didn't vote for i.e. The United States of Europe. When did that happen? Well, over time the Irish Citizen have voted for a little change here, a little change there and now it is past the time to turn back. Still the three major political parties are singing from the same hymn sheet. Vote Yes for Jobs, is still their mantra. Yes, there is now a slight change in the makeup of the Dail. Independents and Sinn Fein have emerged onto the scene but as yet cannot exercise any real power in their arguments. Their time will be another day, somewhat into the future. By then it'll be too late to undo the wrongs perpetrated on the citizens of Ireland by unscrupulous individuals, both elected but in the main unelected, who have imposed dreadful austerity on the citizen in pursuit of their own selfish agenda.
On Thursday the Citizen has the opportunity to Vote. That is their right. But is it just an exercise in democracy for the sake of it, or is it an opportunity to try to stop the runaway train which is delivering us to a destination that we know not where? The United States of Europe is upon us. It will be a brave man or woman who stands on the line to try to stop this train. Sadly, it appears we cannot stop this train regardless of where it's true destination lies.
As I've stated in a previous Blog, I encourage all citizens to exercise their right to vote. Sadly it may be the only chance you have for some time as in the last General Election the citizen voted for change which has clearly been denied them. The present Fine Gael/Labour Coalition has continued to implement the same policies as Fianna Fail despite the citizens mainly anti-Fianna Fail Vote. I believe it was not a vote for Fine Gael and Labour but primarily anti-Fianna Fail , a point which seems to be lost on current Government politicians. The importance of steering us into the United States of Europe now takes on a greater urgency as to slow the process now would only allow the Irish Citizen to say No, enough is enough. Now, you couldn't have the Citizen daring to change direction, could you? No, clearly that would be disastrous to the bankers whose interests we are now told, come first. Bail out the banks, not the citizens. That way you keep the citizen powerless in this New Europe. Irish citizens have lost their individual identity. They are now only citizens of a country called Europe.
LegalEagleStar , Tuesday , 29th. May , 2012